Copyright Wigren~Barlow Art & Antiques

Our Mission & Offerings
Wigren~Barlow Art & Antiques offers an eclectic and interesting mix of antiques and art as well as vintage and decorative items. Over the last few years the mix has changed to include several Vermont, New England and New York contemporary artists while continuing to carry 19th and 20th Century American and European paintings, prints, lithographs, folk art and sculpture. Mid Century Modern pieces have become very popular and part of the offering. We welcome customer's "wish lists" and inquiries, and email photographs when we find a treasure we believe would be of interest. Customers frequently ask where we get our pieces. They come from many sources including people downsizing, individuals stopping by the shop with items of interest, antique shows and auction acquisitions. Certain pieces were purchased in England. Shipping to customers is not a problem. We have a well established relationship with a shipper that blanket wraps and is cost effective. Local delivery can be arranged for customers living within a few hours of the shop. We appreciate customer loyalty and support over the years and recognize certain customers are at a stage where they want to sell or consign some of their treasures. We welcome the opportunity to bring in "new" pieces. Wigren~Barlow Art & Antiques is an active member of the Vermont Antique Dealers' Association.
Woodstock, Vermont
In many respects, Woodstock today looks very much like it did in the middle of the 19th Century. Woodstock is frequently cited as one of the most picturesque villages in New England for its tree-lined streets, architecture, churches, covered bridge, stately homes and shops. The Huffington Post recently named Woodstock among communities with "America's Best Main Streets". In March 2014, The Wall Street Journal featured Woodstock in an article by Daniel Machalaba. To the author "Woodstock combines a picturesque location, historical downtown and lively cultural scene. Central to Woodstock's appeal is its long, elliptical green, the size and shape of an old battleship, in the heart of the town." The Woodstock Inn, developed by Laurence Rockefeller, anchors the Village Green; stately Georgian, Federal style and Greek Revival homes in pristine condition, built by affluent townspeople, sit in the view of Mount Tom and Mount Peg. The names have changed but certain businesses, such as the Woodstock Pharmacy and Gillingham's General Store, have been serving the small community since the mid 1800s. The village has transformed into a destination for the arts and recreation. In addition to antique shops there a number of interesting art galleries. The Pentangle Arts Council sponsors a wide variety of live entertainment options, many outdoors in season, including concerts on the green and on the mountain side.
The weekly Farmers Market on the Green, Taste of Woodstock, and Bookstock are very popular annual events. The village is packed with antique lovers the last weekend of July for the annual Vermont Antique Dealers' Association Antique Show at the arena. Whether your interests run to golf, skiing, ice skating, snowshoeing, leaf peeping, hiking or simply walking, Woodstock offers venues with wonderful views of the mountains and village. The village is home to the Marsh-Billings-Rockefeller National Historical Park, Vermont's first and only National Park, and the Billings Farm and Museum, dedicated to conservation and farming.
Tourism began to flourish in the late 1800s and Woodstock became a desired destination which continues to this day. Woodstock offers a wide variety of interesting lodging and dining options in the village and close-by communities.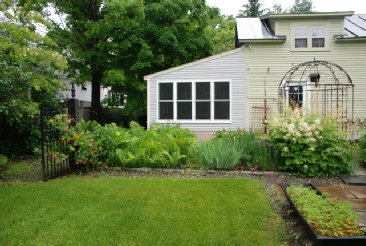 The Gardens at Wigren~Barlow Art & Antiques